Welcome to my most valuable 45 rpm records list.
I love records, and I love lists, that's why I knocked together this list of the top 10 valuable 7 inch vinyl singles.
Sit back and enjoy!..
Most Valuable 45 RPM Records List
I'll be refreshing this list of valuable 45's every few months, to make sure it stays fresh, up to date, and accurate.
But that said, feel free to pop something into the comments section, if you know of a piece of valuable vinyl that should be taking one of these spots.
Let's get into this!..
#1. A-Side: 'Do I Love You (Indeed I Do)' / B-Side: 'Sweeter as the Days Go By' by Frank Wilson
It's hardly surprising that this piece of 45 rpm vinyl is found topping this most valuable 45 rpm records list.
Not only is it a beautiful record, but this northern soul classic is steeped in music industry history.  
The story is that back in 1965, Frank Wilson was working for Motown Records, both as a producer, and also managing Motown's Los Angeles operation.
Unknown to Motown founder Berry Gordy, Frank Wilson had gone ahead and had some promo copies of 'Do I Love You (Indeed I Do', which would be his debut single, pressed on the Motown Soul label.
When Berry Gordy found out, he got the right hump, telling Wilson that he needed to decide whether he wanted to be a producer or a recording artist, and that trying to be both was not an option.
Thankfully for the music loving public, Wilson chose the latter. Gordy got the hump even worse and ordered the six test pressings already pressed to be destroyed.
But it turns out that not all copies were destroyed, as two copies showed up some years later.
Unfortunately one copy is very badly warped. But the other surviving original test pressing is the most valuable 45rpm record ever.
In 1996 the single is known to have been bought by northern soul DJ Kenny Burrell for £15,000.
In 2009, Kenny Burrell sold the single to an unknown buyer from north east of England for some £25,742.
In mid-2020, another English northern soul fanatic, Lee Jeffries, managed to track that owner down through the original auctioneer John Manship, and eventually persuaded them to sell this most sought after of records.
Here's John Manship handing the record over to the new owner on that very occasion: 
How much it went for in this 2020 sale is unknown, suffice to say it would have been comfortably north of the 2009 price.
But we do know that new owner Lee Jeffries was offered £125,000 for the record just seven days after he bought it, and he declined the offer.
Incredible stuff!
---
#2. A-Side: 'Ask Me Why' / B-Side: 'Anna (Go to Him)' by The Beatles
Well, we never going to get too far into this list before the Beatles cropped up, were we?
And here they are taking the number two spot with possibly one of their weakest 45 releases.
On top of which, the A-side is a previously released B-side, and the B-side is a cover.
But that doesn't bother serious vinyl collectors too much, when one of the world's biggest groups ever, rarity, and a story come together. 
These valuable promo-only pressing were put out on Vee-Jay Records, who at the time tended to focus on the music of black artists, almost exclusively…the Beatles and the Four Seasons being the only notable exceptions.
The sleeve that Vee-Jay used for these promo releases was a prototype black and white sleeve, with the opening at the bottom, rather than the side.
Vee-Jay issued an extremely limited number of these DJ promos in the prototype sleeves, thought to be somewhere in the region of 100 copies only.
To add to the rarity value, Vee-Jay never proceeded with a full release, choosing to release 'Twist And Shout' instead.
Right now, there are just four known copies.
The massive global band, extreme rarity, and odd promo release story, all this adds up to copies now changing hands for big money.
The most expensive to date passed hands on July 24, 2012 for $35,000.
---
#3. A-Side: 'Love Me Do' / B-Side: 'P.S. I Love You' by The Beatles
Now I'm no big fan of the music of the Beatles, that's for sure.
But they did help spawn an era of massive creativity in the music industry, for which I am full of admiration.
My point being, that fan or not, the Beatles are music legends for good reason, and coming in at both numbers two and three on this list of rare and valuable vinyl singles is testament to that.
This particular 45 was of course the first single that the Beatles ever released, and, as is often the case, it's the promo copies that are fetching the top money. 
Released in the UK in October 1962, it reached number 17 in the singles charts.
Released in the U.S.A in April 1964, it topped the charts at the number 1 spot.
The UK promo copies, of which there were only 250 pressed, now fetch between $15,000 & $20,000.
---
#4. A-Side: 'Lafayette Blues' / B-Side: 'Sugar Never Tasted So Good' by The White Stripes
The White Stripes have enjoyed some very decent success.
But would you describe them as 'massive'? I mean massive enough to have released one of the all-time most expensive 7″ singles of all time?
So what's the story morning glory?
How come their second single release now passes hands for outrageous sums of money?
Well, because the copies that go for somewhere like $18,000 a time are far from standard issue.
'Lafayette Blues' was released in the U.S. in November 1998 on Italy Records.
Leading up to the single's release, the White Stripes were due to play a release gig at the Golden Dollar in Detroit, where they were a regular act, having played their debut gig there in '97.
But problems with production meant that the 45's covers weren't ready in time for the show.
Not one's to be de-railed by such problems, Jack White and Italy Records head Dave Buick set to work hand-painting fifteen totally unique covers just before the show started, which they sold for $6 each.
The vinyl singles themselves are pressed to white vinyl.
$6 in 1998, to $18,000 in 2010, that's some return on investment!
---
#5. A-Side: 'Street Fighting Man' / B-Side: 'No Expectations' by The Rolling Stones
I love the Rolling Stones. That's probably because my Dad loved them and would have one of their albums playing on the record player pretty regularly.
Anyway, enough of the reminiscing…
Street Fighting man was originally released by the Rolling Stones as a single in America during August 1968, it was released in the UK just a few months later.
A lot of controversy was caused by both the songs lyrics, and the images on the sleeve of the original release.
The picture sleeve images depicted scenes of police brutality, with the photos taken from riots at the 1968 Democratic Convention, where police and anti Vietnam war protestors had clashed violently.
The record company, London Recordings, got totally spooked by all the hullabaloo, deciding that the images were too controversial and chose to withdraw them from distribution.
They opted for a much safer image, a simple one of the band, for further releases.
Quite a few American radio stations banned the song, but that didn't bother Mick Jagger, who commented: "I'm rather pleased to hear they have banned (the song). The last time they banned one of our records in America, it sold a million".
It's reckoned that somewhere in the region of 10 to 20 copies of the original 7″ single, picture sleeve distribution, still exist, with an estimated value of between $10,000 and $22,500.
---
#6. A-Side: 'My Bonnie' / B-Side: 'The Saints' by Tony Sheridan and the Beat Brothers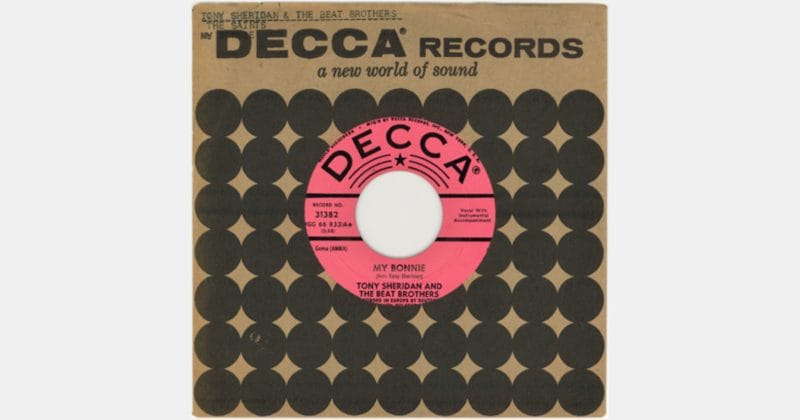 Well, the B-side of this particular 7″ single is an absolute abomination of a record (in my opinion), so there better be an amazing story behind it.
Oh, here we go…it's the Beatles.
Yes, the Beat Brothers were in fact the Beatles, but with Pete Best on drums, instead of Ringo Starr, who wasn't on the scene at the time of the original recording.
This 1962 UK release (1964 in the U.S.) was a collaboration between Tony Sheridan and the Beat Brothers.
This is the first ever single release by the band that went on the become the Beatles, so many Beatles' fans consider this to be their first release.
It's also the only chart release of either the Beat Brothers or the Beatles where the lead vocal has been sung by a non-Beatle.
It's also very hard to track down, and as such, good condition 45's are valued at a cool $15,000.
---
#7. A-Side: 'God Save the Queen' / B-Side: 'No Feeling' by The Sex Pistols
Way back in March 1977, A&M Records set themselves apart from all other record labels by having the balls-out bravery to sign the Sex Pistols.
By which point the band had only been going for just over a year and had already been dropped by EMI, due to there liberal use of profanities on a UK prime-time TV chat show…I mean, good grief, who booked them for that? 
Not to waste anytime, A&M quickly got them in the recording studio to lay-down what would be the Pistols second single release, 'God Save The Queen'.
Single recorded, production completed, 25,000 copies pressed…it's all looking pretty good.
Or maybe not!
By 16 March A&M had themselves dropped the much maligned band.
Yes, that's 16 March 1977, roughly two weeks after they first signed them.
The Pistols had been nothing but a massive pain up the backside in that short time; breaking stuff at the label's offices, verbally abusing staff, threatening people.
The 25,000 copies that had already been pressed of 'God Save the Queen' were all quickly destroyed…
…well, nearly all of them! 
A&M staff no doubt nabbed a few of them before their destruction. And from these it's thought that something like a dozen or so are still around and in decent condition.
Richard Branson's Virgin Records went on to the sign the band, and themselves released this particular 45″ onto the singles charts.
Obviously though, you don't want the Virgin Records copies, you want the A& R Records copies, which will fetch anywhere between $5,000 and $20,000.
---
#8. A-Side: 'That's All Right' / B-Side: 'Blue Moon of Kentucky' by Elvis Presley
'That's All Right' was written by Arthur Crudup.
Crudup performed the song many times and recorded it in 1946 with RCA Victor, who released it as a single in 1947.
It's been said by music experts and critics that this could be "the first rock-and-roll song".
Elvis Presley recorded a faster version of the song which was released by Sun Records in July 1954.
Arthur Crudup was indeed credited as the composer on the label of the Sun Records singles, but it's reported that he never received any royalties.
The Sun Records original pressings now sell for between $7,500 to $11,000 a time.
---
#9. A-Side: 'Science Friction' / B-Side: 'She's So Square' by XTC
The first single released by the brilliant British New Wave band XTC.
The original pressing to 7″ vinyl was a run of fifty copies only. This was simply because, after this first short-run pressing, the band and record label decided that they would release the track as a 12″ EP.
The sleeves of both the 7″ single and the 12″ EP were originally printed in florescent inks with 3D effect. Making it very easy to spot fakes.
Because there were only fifty copies of the original pressing to 7″, with the florescent 3D printing, it's these that fetch the most money.
XTC have always had a bit of a cult following, partly because they were brilliant, and partly because they were on the New Wave scene at the start, and New Wave itself was a much needed breath of fresh air for the music industry.
It's thought that there are about twenty-five copies of the original 7″ single around.
If you have one, you should keep it safe, and play it carefully, or if you're all bout the dough, sell it for for anywhere between $2,000 and $5,000, depending on condition.
---
#10. 'Memory Lane' by Robert Plant & The Band of Joy
Well, this one is a bit of an oddity on this most valuable 45 rpm records list.
That's because we're talking about a single-sided acetate single, and I wouldn't usually consider an acetate as playing fairly with standard vinyl.
Because all acetates are extremely short-run pressings, like two or three copies kind of short.
And of course, you can only play an acetate a limited number of times before it wares out.
Anyway, it's going on the list because it's interesting, and at the number ten spot, we're in the realms of price values where there are a number of possible candidates.
So, what do we have here?..
'Memory Lane' by Robert Plant & The Band Of Joy from 1967/1968.
As we've already mentioned, it's a single-sided 45 rpm, 7″ acetate disc, recorded at IBC Studios, Portland Place, London.
Obviously it's the Robert Plant connection that attracts the interest.
Band Of Joy were formed in the Birmingham, England in 1967. Robert Plant had joined following the break-up of his previous band, Listen.
The single never actually made it to release, and this acetate was largely forgotten about until being discovered in a loft, with a bunch of other records.
Robert Plant went on to become the lead singer and lyricist of genuine rock legends Led Zeppelin.
Regarded by many as one of the greatest singers in rock music, Robert Plant was inducted, with the band, into the Rock and Roll Hall of Fame.
In December 2010, 'Memory Lane' sold in a Bonham's auction for around $4,000.
Wrapping it Up!
Okay, we're done, that's my most valuable 45 rpm records list.
I think it's fair to say that for each of these vinyl singles it's pretty easy to see why the value has got so high.
All of them have either a great story, musical quality, controversy, rarity…and in a few cases, all of these things.
Who knows, maybe the next time you clear out your loft, you'll find a mint condition copy of one of these rare vinyl singles.
If you feel you haven't read enough about valuable vinyl records, hop over to my top 100 most valuable vinyl records list.