Soul music plays a big part in music history.
It has influenced entire generations of people and several genres of music.
But what are the true roots of Soul, and how is it properly defined?
In short…what is soul music?..Exactly!
What Is Soul Music?
There are several ways to define Soul, but the reality is that there is only one true origin.
Pretty much everyone who loves the Blues, R&B, Jazz, Rock n' Roll, House, Motown, Ska, amongst many others, will also tend to have a soft-spot for Soul.
TL;DR Summary: 
Soul music is directly related to both traditional blues and gospel music. Soul was born in the '50s and '60s and became internationally popular within a decade. Soul is defined by skilled musicians playing big-band gospel-style music and powerful improvisational vocals.
Soul is a genre of music that originally came about in the 1950s in the African American community in the United States.
This genre was revolutionary for music, and it quickly became a popular style internationally, and led to the creation of several other genres.
Soul music is so-called because it is an adaptation of gospel music but with secular lyrics.
This musical style is based heavily on gospel and even retains the use of choirs and big-band-style tunes.
Soul has a big sound defined by improvised vocals, call-and-response, dynamic voices and instruments, and a good mix of fast-paced and slow tunes.
Soul music is for dancing and for listening…the type of music that moves your body and your heart.
Soul is usually an excellent example of high-skill musicianship and musical ability, and Soul bands were some of the best musicians in the world at the peak of its popularity.
The genre has influenced multiple other genres since its creation and has become a defining moment in African-American history.
Soul music dominated the music charts in the US in the '60s.
It quickly made its way to the UK, where it was equally well-received.
It branched out into other genres, such as funk, by the turn of the '70s.
Typical Characteristics of Soul Music
As with pretty much all music genres, Soul has a few key pointers within its usual musical structure and style, that identify it as Soul music.
Far be it for me to try and put such a vibrant music genre in a tidy little box, but here are a few typical characteristics:
Blues Harmonies
Soul singers and songwriters brought the harmonic nature of the blues through into their songs.
And it's a characteristic that has not wained over time, as this blues influence is as true today as it was at the beginning.
Gospel Traditions
Without doubt, The Black church was a huge influence on many soul singers.
It was here that many of them experienced the power of music for the first time.
It was also where many of the first soul artists performed for the first time.
Exceptional Vocal Performances
Can you think of a soul singer who doesn't have an amazing voice?
I don't think I can.
Average singers can hide behind brilliantly written songs in many genres of music…
…but that's not the case for soul music.
Soul music is written an arranged so that brilliant vocalists can flourish.
Prominent Rhythm Sections
More often than not, you'll find that soul music has an emphasise on a solid backbeat.
This strong backbeat is a further a characteristic brought through from its gospel roots.
Horn Sections
Not as defining as the previous characteristics we have previously named, but nonetheless…
…horn sections tend to be another popular staple of the soul music sound.
Why Is Soul Music Important?
Soul music is a critical genre in musical history. If it were not for Soul, we would not have so many other musical genres that we love.
Genres such as Funk, R&B, Rock n' Roll, Blues, Jazz, New-Soul, Motown, Nu Jazz, and even Pop were influenced by or directed created by Soul music.
This style of music became popular right as the world changed, and so it became the hallmark of the new musical world.
Soul defined an entire generation and led to an age of well-skilled, highly talented, high-performing musicians that shaped the musical landscape forever.
Few modern musical genres are as important as Soul, and few that made such a significant impact on the larger musical world.
Soul and the Civil Rights Movement
What is soul music?…
…the "sound of the civil rights movement".
Soul inspired many African Americans with it's lyrics, with it's mood…
…and with the strong, powerful attitude of it's artists.
Artists such as Timmy Thomas, Aretha Franklin, Sam and Dave, all supported Dr. Martin Luther King directly.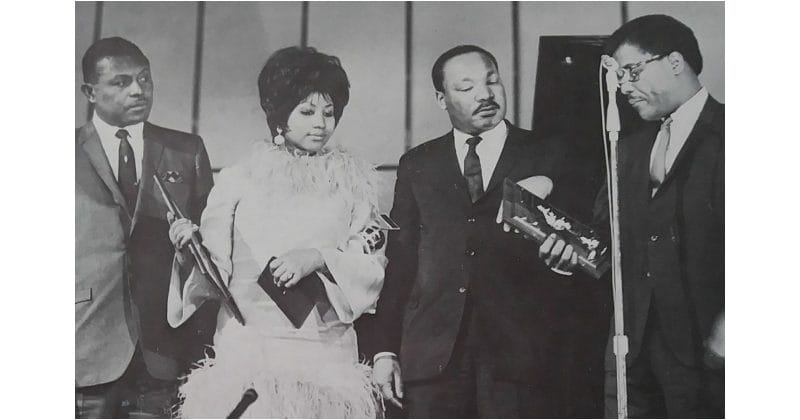 Quite understandably, their music, as well as that of Curtis Mayfield and Sam Cooke quickly became anthems of the civil rights movement.
Soul music was used to spread the message of freedom and equality, and it helped inspire people to fight for their rights.
Examples of Soul Music
Soul is a genre that is full of great songs and excellent tracks, which makes choosing a few examples very challenging.
However, there are a handful of artists that define this genre better than any others. Listening to any songs by these artists will perfectly demonstrate Soul music to those unfamiliar with it.
Some of the best known Soul artists include:
Otis Redding
Marvin Gaye
Smokey Robinson
Bill Withers
The Staple Singers
James Brown
Sly & And The Family Stone
Curtis Mayfield
The Temptations
Wrapping it Up!
Soul is a true great musical genre that changed the musical world forever.
Anyone who appreciates modern music should take the time to explore and appreciate Soul..
…as it is one of the major roots of much of the music that we know and love today.