Hey there! Welcome to my 2023 round-up review of the best wireless headphone under $500.
I'm pretty obsessed with headphones, and I've spent endless hours researching and testing the most popular wireless headphones currently available.
Then I ranked them based on sound quality, frequency response, connectivity, comfort and battery life…and value for money of course!
These are by far the best performing wireless headphones of the bunch.
Fortunately, you don't need to break the bank to enjoy a beautiful wireless audio experience.
Whether you want wireless headphones for the office, travelling, or straight-up audio listening pleasure…
…choose one of these headphone sets and you'll enjoy pro-level sound quality, perfect connectivity, and comfort.
Ready to start enjoying the best possible wireless listening experience?
Great, let's get going!..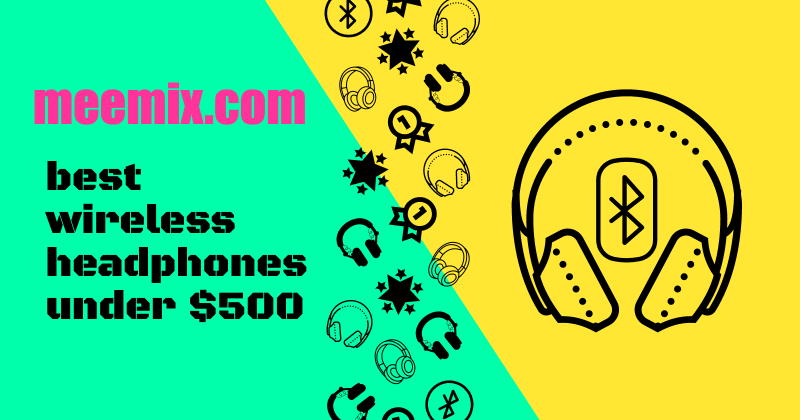 Best Wireless Headphones Under $500
If you're super tight for time and just want to get straight into which are my top 5 best wireless headphones for under $500…
…here they all are:
We earn a commission if you make a purchase, at no extra cost to you.
Before we dig right in…all of the headphones on this list are using Bluetooth connectivity.
So before you buy, just double check that the device you will be transmitting from is also Bluetooth enabled. It very probably will be, but it is definitely worth checking.
#1. Sennheiser MOMENTUM 4 Wireless
For me, these Sennheiser's MOMENTUM 4 Wireless headphones are the pick of the pack.
They deliver in every area that is important for a great listening experience. In my opinion, even more so than the excellent Sony WH-1000XM5 headphones.
Not only are they my favourite wireless headphones in this price bracket, but they actually come in well below the $500 mark.
If you've owned Sennheiser's previously, I'm sure I don't need to convince you of their outstanding sound quality. It's not by accident that you'll see live TV reporters, whether it's news, or sport, or whatever, wearing Sennheiser's.
The MOMENTUM 4 headphones have got the usual perfect sound reproduction that you expect from Sennheiser…great frequency response, deep, warm bass, bright trebles, and everything in between.
It's predecessor, the MOMENTUM 3 was a little too bass heavy for my liking, but this has been nicely dealt with.
And of course, they deliver soundstage so good you can clearly visualise where every band member was positioned as the track you're listening too was recorded.
Sennheiser's 'Signature Sound' is their audiophile-inspired acoustic system, giving you not only superior sound, but superior sound exactly how you like it.
For the serious audiophile looking for wireless headphones, these Sennheiser's have got to be the pick.
Built-in EQ, sound modes, presets, and their 'Sound Personalization' feature, tailors the audio experience to your precise individual preferences.
The 'Adaptive Noise Cancellation' (ANC) technology ensures you block out unwanted background noise, while 'Transparency Mode' keeps you in the loop when you want to hear your surroundings.
Thick high-quality padding and materials make it easy to get a perfect, comfortable fit (albeit as long as your head is not on the large side), and the battery life is excellent, with up to 60 hours of playtime.
One of the main drawbacks is the middling ANC, which doesn't offer the same level of noise-canceling as some other headphones in this price range.
What You'll Love About these Sennheiser's:
The sound quality is amazing: What I really love about these set is that the sound is so perfectly reproduced all across the frequencies.
The sound is not over-sanitised: If you're listening to a track that was produced in analog format, you're going to hear how it actually sounds. These headphones do not digitalise what is not meant to be digitalised.
Outstanding soundstage: People often talk about headphones giving the listener an immersive experience. And for me, it;s great soundstage that achieves that. Great soundstage allows you to completely lose yourself in the moment.
Touch controls and smart features work flawlessly: I think maybe even better than Sony's.
Battery Life: Up to 60 hours via Bluetooth with ANC.
USB-C cable connection: You can connect the MOMENTUM 4 with your PC or Mac, via a USB-C cable instead of the 3.5mm audio cable. Pretty useful for laptop users.
What You Won't Love:
ANC is good but lacks behind Sony and Bose: Not far behind, but there is a slight gap that Sennheiser should look to deal with going forward.
Transparency Mode has some static: Very little, but if you're likely to use this mode very regularly, it's worth considering.
Clamping force could be lower: Not too much of a problem for me because I have an average size head. But for anyone with a slightly larger head, these could get a little uncomfortable.
Frequency Range: 2 Hz – 22 kHz
Impedance: Active 470Ω / Passive 60Ω
Sensitivity: 106 dB
Battery: 60hrs on Bluetooth with ANC
Cancellation: Hybrid Adaptive ANC
Connectivity: Bluetooth 5.2 compliant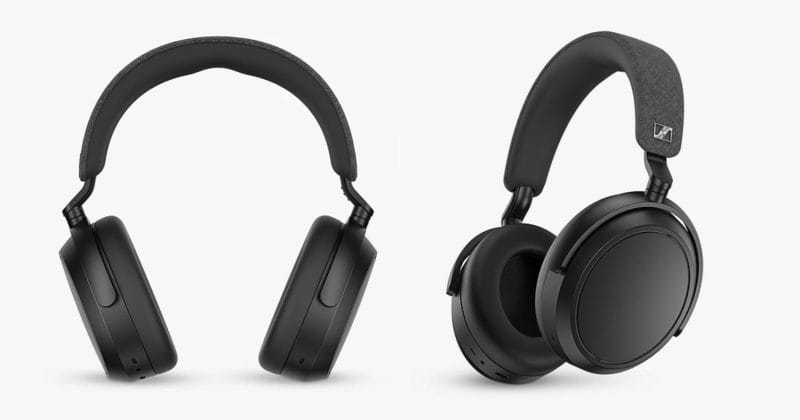 #2. Sony WH-1000XM5
The Sony WH-1000XM5 are a top set of wireless, noise-cancelling headphones.
With industry-leading noise-canceling technology, it's no wonder Sony's 1000XM range of wireless headphones are massively popular with all types of different users:
Music lovers, travellers, people who make and take a lot of calls and need to block out background noise, whether that's in the home or office.
Sony have a big band of loyal followers.
But have they blown their much-loved predecessors out of the water with their new design and features?
Just like their predecessors, these headphones are capable of blocking out even the most distracting sounds, allowing you to stay focused on what matters most.
And whether you're making phone calls or recording audio, the built-in mic delivers crystal-clear sound quality.
Similar to the Sennheiser's above, these headphones have an app, and built-in custom EQ, that together allow you to totally customise your listening experience.
If I was looking for a pair of headphones where noise cancellation was my primary concern, these would be the ones.
But for me, they don't quite hit the same high-level of sound quality as the Sennheiser's, when simply sitting back and listening to music…which is something I do a lot of!
On top of all the tech brilliance of these headphones, Sony have got a great environmental and sustainability angle going on.
The packaging contains zero plastic and everything is designed based on low toxicity design principles and a 'Made to be Remade' philosophy.
Wherever plastics have been needed in the production of the product itself, recycled plastics are used wherever possible.
What You'll Love About these Sony's:
Industry-leading noise cancellation: For me, Sony definitely lead the field in this area.
Perfectly clear, noise-free calls: For both you and the person you're talking to. Regardless of how noisy your environment is, the person on the other end of the call still hears your voice clearly.
Smooth controls and easy connectivity: The Bluetooth multipoint and 'Find My Device' features enable you to easily connect to multiple devices as well as find misplaced headphones.
Great connectivity options: With Bluetooth 5.2 connectivity that supports SBC, AAC, and LDAC codecs, you can enjoy high-quality audio no matter how you choose to connect.
Super comfortable: With soft coating made from vegan leather, ear pads that are wide and deep enough to accommodate users with larger ears, and a friction rod design that allows you to adjust the headphones for the perfect fit…you can wear these for hours without them feeling uncomfortable.
Sustainable and environmentally friendly: Recycled and re-usable material has been used wherever possible in both the headphones themslevs, as well as the packaging. A big hand for Sony for leading the market on this.
What You Won't Love:
Not foldable: I've got to say I find this really odd. A big part of the customer base of previous models in this wireless series is frequent travellers. And frequent travellers want everything to be as compact s possible. So I think this is a step backwards.
Can't change the ear-pads: Well, you can, but you'll need to sent them back to Sony for them to do it. How bizarre!
Only marginal improvement on the previous M4 model: But because the M5's now exist, the M4's are now a lot less expensive.
Frequency Range: 4 Hz – 40 kHz
Impedance: 16Ω – 48Ω
Sensitivity: 102 dB
Battery: 30hrs continuous playback
Cancellation: Auto NC Optimizer
Connectivity: Bluetooth 5.2
#3. Audio-Technica ATH-M50xBT2
The Audio-Technica ATH-M50xBT2 wireless headphones are an impressive addition to the Audio Technica's headphone line-up, delivering outstanding sound quality at a very reasonable price point.
In fact, for the money, it's staggering how good the sound is.
These headphones also offer a great-looking design and intuitive controls, making them a great choice for many buyers.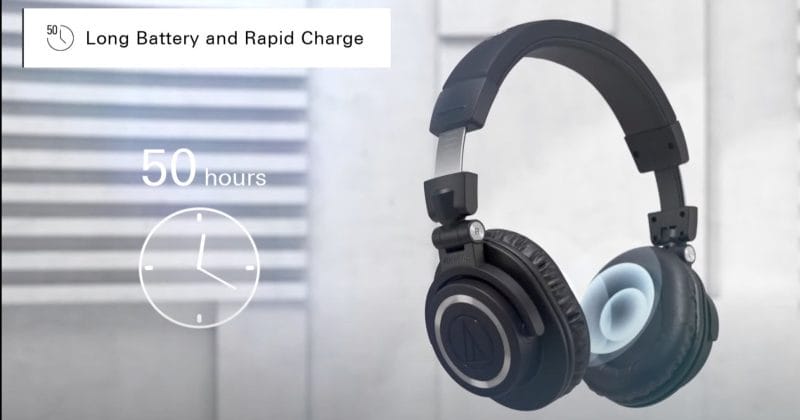 The fast pairing makes connecting the headphones to your devices easy, ensuring you can start listening to music or taking phone calls without any delay.
Additionally, the option to use a headphone jack provides flexibility in how you connect, while the built-in equalizer allows you to customise your sound preferences exactly to your liking.
But, while the design of the M50xBT2 headphones is both classic and modern, reusing the old design has resulted in a familiar issue; a tight clamping force and padding that can build up heat during extended listening sessions.
Jut keep that in mind should your head be slightly on the larger side, and/or you wear glasses, and you tend to use your headphones for extended periods of time.
The M50xBT2's do not have active noise cancelation, which is a feature of both the Sony's and the Sennheiser's above. But, having said that, Audio Technica headphones always have great passive sound isolation, and these are no different.
This pair fold up really nicely for convenient storage, or for when travelling.
What You'll Love About these Audio Technica's:
Great sound quality: Both in bluetooth mode and wired, the sound is nicely detailed throughout the frequencies.
Outrageously long battery life: Battery life can be areal bug-bear for bluetooth headphone users, but definitely a strong plus-point for these headphones.
Good quality, clear mics: Dual microphones with beam-forming technology gives great vocal pick-up for crystal-clear calls.
USB-C cable connection: A nice bit of added convenience.
Great price: At somewhere in the region of $150 these are pretty incredible value for money.
Great looking, foldable and portable: Seemingly a rare combination for wireless headhones.
What You Won't Love:
No active noise cancellation: If you're buying these to listen to music it's unlikely that this will bother you too much because they have very good sound isolation. But, if you are buying primarily for making and taking calls, maybe you'll be after a set with ANC.
Tight clamping force: As mentioned earlier, this could be a problem if your head is slightly larger than average, and/or if you wear glasses.
Buggy Bluetooth device switching: Not something I have experienced but some users have reported getting problems when switching between Bluetooth devices.
Audio-Technica ATH-M50xBT2
Audio-Technica ATH-M50xBT2
Frequency Range: 15 Hz – 28 kHz
Impedance: 38Ω
Sensitivity: 99 dB
Battery: 50hrs of continuous use
Cancellation: N/A
Connectivity: Bluetooth 5.2
#4. HIFIMAN Deva Pro Wireless
I'm going to get this off my chest right now…I was in two-minds as to whether the HIFIMAN's Deva Pro Wireless headphones should be on my list.
What angle do they offer that the first three don't?
They deliver great sound, but not better than the Sennheiser's in number one spot.
Top-level microphone performance makes them great for calls, but not quite as good as the Sony's.
And at something like $300 they're definitely not the budget option.
So what's the angle?
Well, there are a few things about them that I really love.
In building these headphones, HIFIMAN have rolled out a whole new round of innovation in both the bluetooth amp and the planar magnetics technology, resulting in a big nudge upwards in sound quality, as well as connectivity.
Every element of the sound is well re-produced and nicely distinct.
There is also very little difference between the sound quality when connecting via bluetooth, or when plugging into the headphone jack. That's pretty unusual. The innovation has worked.
They are light and comfortable, although I would say they have tendency to slip forward if you're being very active.
Whilst they don't have active noise cancellation, they have pretty good (but not amazing) sound isolation, for the wearer at least. I make that distinction because if you're listening to music, everyone around you is going to get to enjoy/hate what you're listening too as well.
If you are thinking of using them on public transport, you're going to end up bugging your fellow travellers.
The other negatives are that compared to all other on this list, they have a relatively short battery. Plus, they really need to dial down the vocal interruptions…like thanks HIFIMAN, but I know when I've moved away from my device or switched connectivity options.
But let's not forget, they do look incredibly stylish!
Frequency Range: 20 Hz – 20 kHz
Impedance: 18Ω
Sensitivity: 93.5 dB
Battery: Around 8 hours listening time
Cancellation: N/A
Connectivity: Bluetooth 5.0
#5. Sennheiser HD 450BT Bluetooth
There's a lot to like about the Sennheiser's HD 450BT headphones.
And coming in at somewhere in the region of $150, you might even be able to live with the stuff you don't like so much.
Impressive sound quality, especially for those of us who love precise sound reproduction. Definitely not bass heavy as I've seen written by some users.
Long battery life so you can charge them up, and then just forget about it for a few days.
The controls buttons are each different enough in size, feel and position, that they're easy to recognise and so you always press the right one.
The quality of the mic is a little bit average.
The active noise cancellation is a bit sketchy. It seems to be fine in some environments but not in others. Fine when out-and-about, listening to music as you travel. Not so good when taking office calls linked in through a PC.
On the pure downside, I've got to mention the comfort.
These will be just fine for you if you either plan on wearing them for just an hour or two at a time…
…or, if you have a slightly smaller than average size head, and medium to small ears.
If you happen to have a large head, bigger than average ears, and plan on wearing them for a few hours at a time, these aren't going to be the best pick for you.
Frequency Range: 18 Hz – 22 kHz
Impedance: 490Ω
Sensitivity: 108 dB
Battery Life: 30 hours
Cancellation: True
Connectivity: Bluetooth 5.0
What's the Difference Between Wireless Headphones and Bluetooth Headphones?
All Bluetooth headphones are wireless, but not all wireless headphones use Bluetooth technology.
Does that make perfect sense? Kind of, but not totally?
Okay, let's start by looking at the catch-all term 'wireless' headphones.
Wireless headphones can use any one of a number of different technologies to transmit sound, such as these:
Radio-Frequency (RF) – transmit through a radio wave frequency and typically require an additional dongle/transmitter to work.
Infrared (IR) – transmit through an infrared light signal and typically require a docking station. There must be a line-of-sight between the transmitting device and your headphones for them to work.
Kleer – use there own proprietary technology that can operate in 2.4GHz, 5.2GHz, and 5.8GHz. Kleer headphones only work with the included dongle/transmitter as few audio sources support the technology.
Bluetooth – transmit audio through a low-powered 2.4Ghz signal. Bluetooth was developed in 1998 for the purpose of making wireless headsets. Bluetooth devices have unique addresses, so your audio source will display them as distinct devices. So even if there are multiple Bluetooth devices within range, your audio source can identify which one you want to connect with.
The opening sentence to this section "all Bluetooth headphones are wireless, but not all wireless headphones use Bluetooth technology" should make a bit more sense now.
So, shouldn't I have named this article 'Bluetooth Headphones Under $500'?
I don't think so, because whilst every set of headphones on this list are using Bluetooth technology, that's because Bluetooth is the current leading technology.
But that doesn't mean to say that it will always be.
Choosing the Best Wireless Headphones for Your Audio Needs
There are several aspects to consider when choosing the best pair of wireless headphones under $500 for your needs. Considering these eight factors will ensure you choose the best pair of wireless headphones for your specific needs!
#1. Sound Quality
Last but certainly not least, you must consider the sound quality of wireless headphones. Look for headphones with high-quality drivers that deliver clear, balanced sound across all frequencies. You won't be able to notice much difference between wireless and wired headphones in terms of sound quality.
#2. Connectivity
It's important to consider the connectivity of wireless headphones, namely the type of connection protocol it uses. Bluetooth is the most common wireless transmission used, allowing you to connect to smartphones, laptops, tablets, and more. You must ensure the wireless headphones you buy are compatible with your devices.
#3. Battery Life
All wireless headphones are powered by batteries, so it's crucial to check the battery life of the model you're interested in. While a good pair of headphones should have a battery life of at least fifteen hours, there are models that will take up to sixty hours for the battery to drain from a fully charged state. The battery life must align with your intended headphone uses.
#4. Comfort
You'll be wearing these headphones for extended periods, so comfort is crucial. While the comfort of headphones is primarily based on personal preference, specifications like weight, contact pressure, shape, material, stiffness, and overall dimensions can also impact comfort. Look for headphones with soft ear cushions and headbands that won't cause discomfort.
#4. Durability
Headphones take a lot of wear and tear, so you must choose a pair built to last. Only purchase headphones made from high-quality materials that can withstand daily use. You must also regularly clean your headphones and ensure that your headphones have proper storage when you're not using them. Many headphones come with a storage case.
#5. Noise Cancellation or Sound Isoaltion
Noise-canceling technology is a must-have feature for headphones if you want to block out external noise and unwanted ambient sounds. In this case, opt for headphones with active noise-canceling (ANC) technology that allows your pair to cancel out noise from your surroundings. Noise cancellation allows you to listen to audio without excessively raising the volume.
#6. Frequency Response
Headphone frequency response measures the range of bass, mids, and treble in Hertz (Hz). The range of your headphones describes the range in which the drivers are able to deliver clear, distortion-free audio. The best wireless headphones must be able to reproduce the full audio spectrum between 20 and 20,000 Hertz – which is the most common range for headphones.
#7. Price
You must always consider your budget when choosing wireless headphones. You can find excellent headphones under $500, but keep in mind that the most expensive pairs aren't always the best. Considering the other factors on this list will ensure you pick the best pair for your budget and needs!
FAQ's
#1. Are expensive headphones always better than affordable options?
Expensive headphones aren't always better than affordable headphones. While some pricey options may offer better sound quality or more features, there are many affordable pairs that offer exceptional value for money. It's best to read reviews and compare specifications to find the best pair for your needs and budget – which you're already doing!
#2. Do wireless headphones under $500 come with a warranty?
You'll be glad to know most wireless headphones under $500 come standard with a warranty that covers any material or quality defects – especially those manufactured by leading brands like Audio-Technica, HIFIMAN, Sony, Sennheiser. The length and terms of the warranty will depend on the brand and model of wireless headphones you choose.
#3. Which brands sell the best wireless headphones?
There are many different brands that sell excellent wireless headphones under $500, including Bose, Sony, and Sennheiser – but is there one brand that's best? No! Each of these brands has unique features and qualities that will appeal to different needs and uses, so it's crucial to consider the factors we outlined earlier when choosing a pair.
#4. How do you choose the best wireless headphones under $500?
While there are many aspects to consider when picking the best wireless headphones under $500, your intended use and individual preferences should inform your decision. Purchasing the most expensive pair of headphones won't guarantee you're satisfied with the headphones. Use our list of the seven best wireless headphones under $500 to find a pair that suits your needs!
#5. Are wireless headphones a good choice for DJ's?
No. Bluetooth connection has a comparatively high latency compared to a wired connection. Critically, it's enough to create lag between headphones and monitors. This will make it almost impossible to accurately beatmatch, queue, and mix. You will be looking for a different set of criteria when choosing a great set of headphones for DJing.
Some Headphones are Just too Perfect!
They may score brilliantly on just about every any test you can possibly think to run.
But do they deliver the warmth, the realism you want?
Maybe this doesn't concern you if you are looking for a set to use in the office. But if you are looking forward to listening to some great music…
…I think you're going to want sound reproduction that properly represents how the music was recorded.
Wrapping it Up!
Not too much left to say really.
It's all up there.
Just, carefully consider your needs.
How will you be using your new headphones? What environment will you mainly use them in?
Music all calls…or a bit of both? Travelling or around the home?
Give it some thought. Happy listening.