Hey there audiophile! Welcome to my roundup of the very best audiophile headphones.
It's taken me something like fifty hours to get this list sorted.
But hey, if I have to listen to great music through great headphones to help a few people out in their decision making…
…I'll do it!
I started out with an already filtered short-list of 15 sets of audiophile headphones that I already knew to be great cans.
But I didn't want to do a straight rundown of which sets I considered to be the 5 best audiophile headphones.
Instead, I wanted to pick the single best in each of five different price categories.
First up is the best audiophile headphones for those of you lucky enough to not have to consider the price.
And the final category is the best budget audiophile headphones, with the other price ranges catered for in-between.
Make sense? I hope so!
Let's get into this!…
Best Audiophile Headphones
If you're super tight for time and just want to get straight into which are my best audiophile headphones…
…here they are without any of the detail:
We earn a commission if you make a purchase, at no extra cost to you.
And now here they all are with the detail…
Best 'High-End' Audiophile Headphones
#1. Focal Clear Mg
If you're lucky enough to be in a position to shell out for these beauties, I hope you know how lucky you are.
These over-ear, open-back headphones are quite simply, beautiful…and spectacular.
Spectacularly beautiful audio!
The Focal Clear Mg's are pure audiophile headphones. You're not taking these babies on the train, or to the gym, unless you're half crazy.
The Focal Clear Mg's are for those perfect moments when you can take some time out, in your preferred place, plug yourself in, and simply enjoy the music you love.
Total bliss.
It's not by chance that Focal make such great sounding cans. They think about pretty much everything that goes into producing perfect the audio experience.
All of the components are made from premium materials. Every last detail has been considered.
Let's take the drivers as an example. Focal use a totally different shape dome to almost every other headphone manufacturer.
The Focal Clear Mg has an 'M' shaped dome, made from an aluminium/magnesium blend, so it's rigid but light.
The 'M' shape means that the headphones respond like speakers, rather than how headphones usually respond.
This combined with the high quality material of the dome, and it's surround, is the reason these headphones deliver totally distortion free sound.
The bass, the mids, the treble, all come together to produce a sound with perfect tonal balance and energy.
Sometimes when you get such great balance, you can end up with a sound that is a little too clinical…no warmth.
But that's not the case with these Clear Mg's. These give you a perfectly balanced sound that also delivers vibrancy and excitement.
And because the balance is just right, it doesn't seem to matter too much what source you plug them into…they just keep delivering.
Sure, they'll perform better if you run them through a decent headphone amplifier, but because they're so beautifully tuned, they're still extremely enjoyable regardless.
The soundstage is coherent, beautifully spacious and identifiable.
Just one word of warning, these headphones reproduce bass as the music was recorded and produced, there is no added extra bass-bump. If that's what you're looking for…stick to your Beats bro.
These are wonderfully enjoyable headphones.
If you have the budget to spend, go for it. You will be delighted with your choice.
What You'll Love About these Focal's:
Outstanding soundstage – Perfectly spacious, open and totally identifiable soundstage.
Transparent and detailed sound – Dynamic audio performance with incredible detail and balance.
Picture perfect mid-range – So good you'll struggle to believe you're listening through headphones.
Treble is sparkling – But still natural with no spikes.
Warm sound – Not overly analytical
Proper drivers – 'M'-shaped magnesium dome is what delivers the dynamics and detail across the full sound spectrum.
Comfort – Almost unbelievable for a set of over-ears
Top-end build quality – Genuinely top-end. No corner cut, no expense spared.
What You Won't Love:
Need running-in – This isn't really a negative, but you'll need to give these 8 to 10 hours of play time before you hear them at their best. This is because they are made of premium materials rather than paper, cardboard and plastic.
Headband creak – But only for the first couple of weeks, just break them in.
Price – $1,500, it is a lot of dough.
Driver: 'M'-shaped magnesium dome
Frequency Response: 5Hz – 28,000Hz
Headphone Type: Open-back, Over-ear
Sensitivity: 104 dB SPL/V
Impedance: 55 Ω
Weight: 450g
Best 'Upper Mid-Range' Audiophile Headphones
#1. Beyerdynamic DT 1990 PRO
What even is upper mid-range?
Well, for me, I'd say it's somewhere between $500 and $800.
So these Beyerdynamic's winning the category at $500 make them some headphones.
And they are!
They deliver bass that is just right for me…but if you're a bass-head, you're going to be disappointed, because it's true replication, rather than bass-wars bullshit.
The treble is outrageously well detailed, maybe occasionally just a little bit bright, but it's never sibling.
But, if your ears are sensitive to top-end frequencies, and you're listening to a bright track, it's fair to say you could find them a little fatiguing.
Mids are just how they should be. Detailed enough, warm enough.
The soundstage is very expansive and identifiable and they have a beautifully transparent frequency response.
These DT 1990 PRO's don't quite deliver that perfect tonal balance that so effortlessly combines analytical detail with warmth, that the Focal's above do, but hey…
…they're also $1,000 less expensive!
It's fair to say that these Beyerdynamic's are at their absolute best when run through a reasonable headphone amp.
It doesn't need to be a $500 amp, most of what you'll find in the $80 range will give these cans a boost that makes them more effortless and enjoyable.
They are maybe a little tight when new, but put them over a box or something for a day, and they'll be just fine…unless you have a massive nut!
They sound great, they look great and they are built to last.
These cans are worth every dollar and dime.
What You'll Love About these Beyerdynamic's:
Sensational detail – All through the frequencies there is great precision and balance.
All the frequencies are nicely separated – But they also meld into each other perfectly
Manage the balance between detail and warmth – Cans with detail as good as these sometimes lack warmth, but not these beauties.
Soundstage is impressive – Nice and spacious with great imaging.
Foreground and background separation – It is amazing.
High-end build – Well built using quality materials.
Look great – They do have a cool stylish look about them,.
What You Won't Love:
Treble sometime slightly too bright – It never veers into sibilance, but if you're listening to a bright track, and you're sensitive to the high-end, you may find them waring.
Clamping force a bit tight – They will open up up but it takes a little time.
Driver Type: Dynamic Driver
Frequency Response: 5Hz – 40,000 Hz
Headphone Type: Open-back, Over-ear
Sensitivity: 102 dB SPL/V
Impedance: 250 Ω
Weight: 370g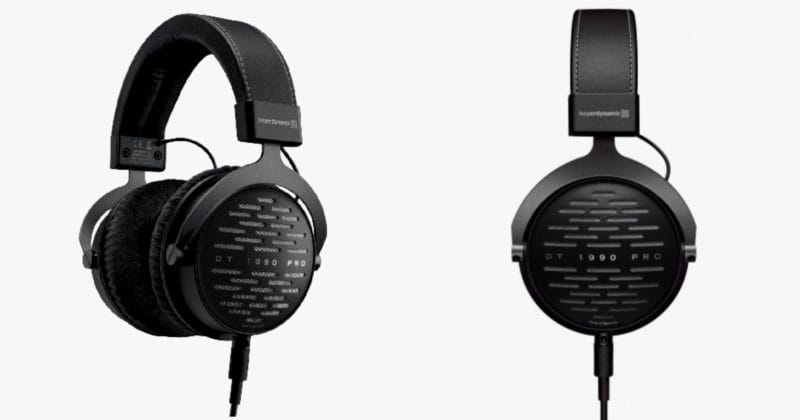 Best 'Mid-Range' Audiophile Headphones
#1. Sennheiser HD 600
Mid-range? $250 to $500? Sound about right?
Unbelievably it's now over twenty-five years since Sennheiser released their first version of a headphone that changed the industry forever…
…the magnificent HD 600.
On release, these cans moved the industry along decades.
They were an instant hit, due to their great sound and unbelievably durable build. Over the years, they've only made a few updates to the look and feel, and none to the sound signature.
When Sennheiser want to intro a new sound signature, they release variations within the extended HD 6.. series.
If you've read much of my other stuff you'll already know that I love a pair of Senny's.
Clean, clear, accurate, with these headphones you're getting pure and natural sound, just as the production intended…or didn't!..
…yeah, if the recording and production are a bit off, you will be hearing that on playback through these HD 600's.
Keep in mind that if you like crappy, overly pronounced, bass-heavy headphones, you will not feel a lot of love for these.
The bass is neutral and natural, and as true open-back cans, there is always going to be a little bass roll-off.
What You'll Love About these Sennheiser's:
Excellent natural and neutral sound – A very true representation, making these headphones superb for anyone who appreciates music exactly how it was laid down.
Outstanding instrument separation – The instrument separation with these cans is precise to the point of perfection.
Neutral bass response – Yes they have a little roll-off but it's not much. What you get is a very neutral bass, just like bass should be.
Beautifully balanced – All the frequencies play nicely together. You won't hear any one sound battling with any other.
Easy maintenance – Just about everything that could eventually need replacing is easily replaceable.
Uncomplicated design – Not the most important thing in the world but they do look nice and minimalist.
Comfortable – They feel a little tight at first, but once you've worn them in they are really comfortable, even over long periods of time.
What You Won't Love:
Neutral bass – This is more of a heads-up than a problem with the cans themselves. The bass is how it should be, but if you've got used to bass-heavy consumer headphones, they will take some adjusting to.
Tight clamping force – Only at first though, they wear in well, but that said, if you have a big old nut they may not be the best.
Driver Type: Dynamic Driver
Frequency Response: 12Hz – 40,500Hz
Headphone Type: Open-back, Over-ear
Sensitivity: 102 dB SPL/V
Impedance: 300 Ω
Weight: 260g
Best 'Lower Mid-Range' Audiophile Headphones
#1. Beyerdynamic DT 770 PRO
Beyerdynamic have been making headphones for one-hundred years now.
And it's true to say that they've learnt a thing or two over those years.
For headphones selling at something like $160, these DT 770 PRO's are outrageous value for money.
They've got great bass, they've got great mids, but there is a little over-emphasis on the highest highs, so if you are particularly sensitive to this I would maybe look for a different pair.
These cans are extremely comfortable, even when wearing glasses and over long periods of time.
Being closed-back, they provide very good sound isolation but give up some soundstage spaciousness.
Still though…$160? Crazy value!
What You'll Love About these Beyerdynamic's:
Sound quality – Even given the slight over-emphasis on the highs I still find these to sound very good.
Outstanding comfort – Over long periods with glasses on, you'll still find these cans to be very comfortable indeed.
Sound isolation – I would say that these headphones offer more than enough sound isolation.
Built like a tank – but lightweight
What You Won't Love:
Emphasis on the highs – The most annoying thing that I found about this, is that it takes out some mids a little early.
Emphasis on the highs – Yes, again. If you're laying down a track, and there's a fair amount going on at the higher end, you'll need to check that you're not dampening those highs.
Non-detachable cable –
Driver Type: Dynamic Driver
Frequency Response: 5Hz – 35,000 Hz
Headphone Type: Closed-back, Over-ear
Sensitivity: 100 dB SPL/V
Impedance: 32, 80 or 250 Ω
Weight: 285g
Best 'Budget' Audiophile Headphones
#1. Sennheiser HD 280 PRO
These Sennheiser's are currently retailing at somewhere in the region of $100, or less!
Do you want to read that again?
Sennheiser HD 280 PRO's for under $100?!?
That is, as Peter Andre would say…"Insania"!
Seriously though, you're going to struggle to find a better set of headphones at this price, because these closed-back, over-ear cans deliver in every key area.
Sure, they may not be the absolute best performer in any one area, but they deliver pretty damn well right across the board.
As any self-respecting audiophile wants, these HD 280 PRO's deliver true replication of the audio sound.
The sound quality is good all through the frequencies, and they are super-tough, durable and comfortable.
Not only that but these cans are so versatile that I also have them in my list of top DJ headphones, and top studio headphones!
Outrageous value, coming in a shade under $100.
What You'll Love About these Sennheiser's:
Sound is great – They render all frequencies just about perfectly with no bleeding and muddying.
Top noise isolation – Possibly as good as you'll get with passive cans.
Excellent soundstage – A spaciousness that belies their closed-back build.
Unbelievable value – These are top quality headphones at a bargain bin price.
What You Won't Love:
Non removable input cable – This is a bit odd. It's industry standard to have a removable input cable. If the cable goes, you've got to start some serious repair work, or chuck them in the bin.
Not the most comfortable if you wear glasses – I've tried to break mine in to becoming more comfortable when I wear my glasses, but it hasn't happened yet.
Driver Type: Dynamic Driver
Frequency Response: 8Hz – 25,000 Hz
Headphone Type: Closed-back, Over-ear
Sensitivity: 113 dB SPL/V
Impedance: 64 Ω
Weight: 285g
How to Get the Best out of Audiophile Headphones
The drivers inside the best audiophile headphones do tend to perform to their absolute best when properly powered.
So depending on what you use as your music source, a boost may be worth considering.
To do this, you simply need a reasonable quality headphone amp.
You shouldn't need a DAC, because the quality of DAC's already built into most devices these days, including phones, is so good.
With that said, it's pretty hard to find a headphone amplifier that isn't an amp/DAC combo.
Something else you can do to get the best out of your headphones, is change your ear-pads now and again, dependant on how often you use them, maybe once a year.
When ear-pads get worn, they tend to get thinner, moving the driver closer to your ear. This will have a significant impact on the quality of sound that you'll hear.
If you feel you'd like to know more about what goes into making a great set of headphones before committing your cash, take a read of my ultimate headphone buyers guide.
Are Audiophile Headphones Better than Speakers?
Probably not…
…that is, if you live in some rarified atmosphere offering a dedicated space where your speakers are set-up for optimal audio playback.
And, you also live in a home where nobody will object to you playing your music as loudly as you like.
A good set of speakers, properly set-up, will usually beat a great set of headphones.
But, great audiophile headphones offer a fantastic audio experience without the need for a dedicated, spacious and perfectly optimised speaker set-up.
Headphones also deliver an immersive experience which many people prefer.
The Wrap-Up!
Not really a great deal of need for a wrap-up.
Apart from to say, that if you have something to add…
…please go ahead and put it in the comments section further below.