Hi there! Welcome to my best turntables under $500 round-up review for 2023.
Let me tell you, picking my top seven best turntables under $500 has not been an easy task.
I know it sounds like a dream assignment…but it's not been all milk and honey.
But I soldiered on, I stuck it out…so you don't have too!
That's just me, I'm one of life's 'givers' I guess.
Seriously though, the thing is this…
…there's an ever increasing number of high-quality record players in the turntables under $500 space.
You're no longer sifting through endless amounts of chaff to try and find a small handful of the best grain.
No way! Not anymore!
Now the challenge is in deciding which of the many contenders aren't going to make the cut.
Keep reading to find out which one's did!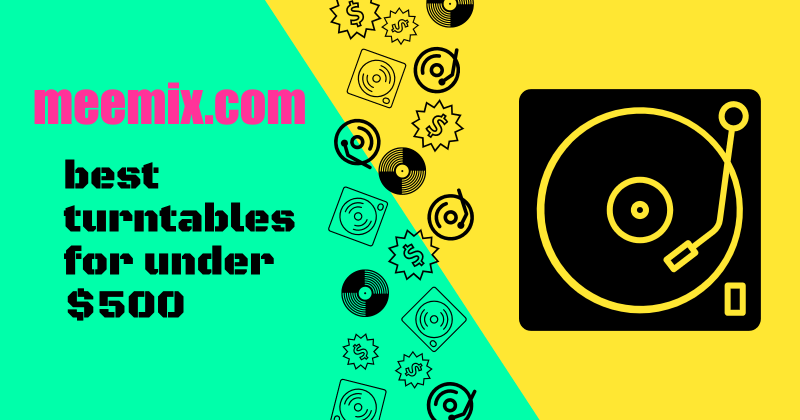 Best Turntables Under $500…
Just for a little clarity before we go any further.
All of the turntables on this list are belt-drive turntables, so this post is aimed at audiophiles and vinyl lovers….
…not at aspiring DJ's, who will obviously be after a set of direct-drives.
#1. Rega Planar 1
I'm not sure how Rega have managed to so perfectly upgrade from the previous model without jacking the price up.
But, somehow they have.
At the £300 price point (sorry, I'm a Brit, let's say 400ish dollars) this represents outrageous value.
The Rega Planar 1 is considered an entry-level turntable because of it's price-point, but little else about it is entry-level.
Set-up could not be any easier.
This is largely because the tonearm comes already calibrated and the Rega Carbon cartridge is factory-fitted.
You really will have this unboxed and ready to play within a couple of minutes!
Talking of tonearms, the Planar 1 is fitted with the all-new RB110 tonearm, which boasts precision, low friction bearings, giving it the feel of something comfortably in the high-end turntable bracket.
As for sound quality, it is staggeringly good!
I would say that the sound quality of the Planar 1 puts a lot of much pricier turntables to shame.
This Rega plays records with all the sound detail you could hope for, and probably a lot more given how little you've paid for it!
Whether you're listening to a laid-back, closely mic'd female vocal, or 125bpm of bass-hugging house, you're going to get every bit of detail you were looking for.
The sound is pure where it should be, and warm in all the right places. It's spacious with acoustics, tight with the treble and precise yet booming with the bass.
It's a little gem!
I'm left wondering why Rega don't appear to specify the wow and flutter for the Planar 1, all I can say is, that it's undetectable.
Now, this thing is an absolute beauty, or beast?..depending on how you think about these things!
But your problem is going to be…can you actually get hold of one?
Belt Drive
33-1/3 & 45 RPM
Moving Magnet cartridge
Phenolic resin platter
Wow & Flutter Unspecified
Preamp not included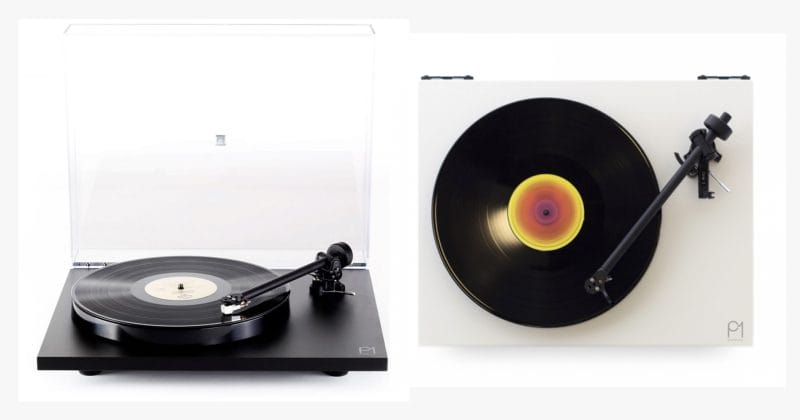 #2. Fluance RT85
This beautiful looking, high-performing turntable is perfect for any music lover looking to get the most out of their records.
With its sleek design and premium features, the Fluance RT85 is pretty awesome, everything about it is top quality!
As soon as you open the box, you know you've got a quality piece of kit on your hands. The quality of materials used is outstanding.
Just looking at it will make you smile because of how obviously well-crafted it is.
Set-up is mostly very easy. The tone-arm is a little tricky to balance, but not too difficult.
Once ready to play, you'll notice that the motor is silent, and the sound reproduction from the Ortofon Blue cartridge and stylus is beautifully clear and warm.
So crank up those speakers and get ready to be excited to put your records on again!
Is this one of the very best turntables under $500 you can get your hands on?..You bet it is!
Belt Drive
33-1/3 & 45 RPM
Moving Magnet cartridge
Aluminium platter
Wow & Flutter 0.07%
Preamp not included
#3. Denon DP 300F
There's a lot of great turntables under $500 on the market right now.
And without doubt, the Denon DP-300F is one of them.
Denon is well-known for its high-quality products that seemingly last forever.
So it's no great surprise that the DP 300F, with it's great spec's, super-clean look, and automatic operation, stands up to turntables way above it's price bracket.
Set-up is easy, taking only about 15 minutes.
Once you've sorted that out, just put your current favourite piece of vinyl on the platter, hit start…
…and be blown away at just how little you had to spend to get this kind of sound quality!
Top-notch sound quality, along with super-smooth operation.
And it looks pretty slick too!
Could it come with a better quality cartridge and stylus?
Yes it could. Denon aren't doing themselves any favours by providing what is a fairly basic cartridge and stylus.
But that's the only gripe.
I've no doubt that this turntable will last you a long time…
…if the Denon stuff that I've owned for something like twenty years is anything to go by.
If you are seriously considering buying this one, go for it…just budget for a top-quality cartridge on top!
Belt Drive
33-1/3 & 45 RPM
Moving Magnet cartridge
Aluminium platter
Wow & Flutter 0.10%
Built-in phono preamp
#4. Pro-Ject T1
The Pro-Ject T1 is a great value-for-money turntable that anyone who loves great music, played perfectly, will love.
It has a high-quality build that ensures accurate playback, and its minimalist design makes it easy on the eye, and easy to use.
Plus, at comfortably under $500, it really does represent genuine value-for-money.
As far as setting up this turntable goes, well, there isn't much for you to do.
If you can gather yourself enough put the belt in place…
…lift the reassuringly weighty blasted-glass platter out of the box, positioning it carefully onto the sub-platter…
…you're just about done-and-dusted.
All of this makes the T1 a great option if you're buying your first turntable…
…or if you simply don't fancy spending an hour or two setting your new turntable up.
As you would hope, the sound pushed out by the T1 is pretty impressive too.
If you are playing a record with an awful lot of instrumentals going on, you may feel it sounds slightly less well-defined than it could.
But I think it would have to be a very busy track for most people to notice.
The Pro-Ject T1 is a great quality turntable that is perfect for people who are just starting out in the vinyl world.
If that's you, go ahead and treat yourself. I don't believe you'll be disappointed.
Belt Drive
33-1/3 & 45 RPM
Moving Magnet cartridge
Heavy 8mm, blasted-glass platter
Wow & Flutter 0.24%
Preamp not included
#5. Music Hall MMF-1.5
Is this really an entry-level turntable?
Well the price tag says it is, but that's about all.
It is no wonder that the Music Hall MMF-1.5 turntable is one of the most popular choices for vinyl lovers and audiophiles.
The build quality is excellent.
The sound quality is awesome.
The price tag is almost unbelievable.
Unlike the Pro-Ject, the MMF-1.5 wants you to show some commitment by putting a little work into the set-up.
It's not too much, but, that said, I've been at this turntable thing for a while now, so have a think as to whether this suits you before shelling out.
Once you are up-and-running, you are going to be blown away by the sound quality.
The MMF-1.5 is fitted with a great-sounding cartridge and stylus that picks out all of the detail with absolute precision.
It's got outstanding channel separation, as well as great frequency extension for both the treble and bass.
From top-to-bottom of the frequencies, the sound is crisp, and clear as a bell.
A perfect mix of great sound quality and affordability.
Additionally, it comes with a built-in phono preamp.
Belt Drive
33-1/3, 45 & 78 RPM
Moving Magnet cartridge
Aluminium platter
Wow & Flutter 0.10%
Built-in phono preamp
#6. Audio-Technica AT-LPW50PB
Looking for a great turntable that doesn't break the bank?
The Audio-Technica AT-LPW50PB has got to well worth your serious consideration.
Like everything from AudioTechnica, it's made from high-quality materials, it's built to last.
And it has to be said that if this was being judged on looks alone, the LPW50PB, with it's piano-black finish, would easily take first spot.
But sound quality is what we're really here for!
This Audio-Technica has been paired with the excellent AT-VM95E cartridge and stylus, producing a price defying smooth and vibrant sound that makes for a great listen.
It doesn't seem to care what type of music you want to play either.
It reproduces spacious acoustics beautifully, with perfectly fine detail…and it seems just as happy if you want to batter the backside out of it with some German techno!
The LPW50PB does come with a phono pre-amplifier built in. But you don't have to use it if you don't want to!
The thoughtful people at Audio-Technica have added a switch, that means you can choose to take the output straight from the cartridge and send it to your own phono preamp, if you already have one.
Oh, I should mention that this one is also super-simple to set-up.
Audio-Technica AT-LPW50PB
Audio-Technica AT-LPW50PB
Belt Drive
33-1/3 & 45 RPM
Moving Magnet cartridge
Aluminium platter
Wow & Flutter 0.15%
Built-in phono preamp
#7. U-Turn Audio – Orbit Plus
What are you looking for in an entry-level turntable, if not super-affordability, great build quality, easy set-up, great sound?
Well, the U-Turn Audio – Orbit Plus delivers on all of these counts and more.
Coming in at well under 500 bucks the Orbit Plus is fantastic value-for-money.
And it comes with mostly everything you need to start playing your records right away, including a preinstalled cartridge and stylus as well as cables.
It doesn't come with a built-in preamp as standard, but there is an option to include one.
The Orbit Plus does come with the Ortofon OM5E cartridge and elliptical diamond stylus, which tracks perfectly and sounds phenomenal.
The sound is warm and full bodied without being too bright or harsh on the ears.
For the price, you're getting a high quality product that has been designed by people who are passionate about vinyl.
On top of all this, the Orbit Plus also looks cool with its sleek design and choice of six striking finishes.
U-Turn Audio – Orbit Plus
U-Turn Audio – Orbit Plus
Belt Drive
33-1/3 & 45 RPM
Moving Magnet cartridge
Acrylic platter
Wow & Flutter 0.125%
Optional built-in phono preamp
A Turntable Has 6 Main Components:
I get it, I get it…
…most of you know this stuff already.
But hey, some people reading this didn't grow up with vinyl and are just starting to look into the whole audio, vinyl thing.
So I thought a little defining of the basics would be a nice thing to do.
Platter:
The platter is the part of the turntable that your records sit on.
It is usually made out of metal or plastic, and it helps to keep the record spinning while it plays.
The platter is rotated by a belt or direct drive system, which causes it to spin at a consistent speed.
This helps to ensure accurate playback and prevents the record from skipping.
Stylus:
The stylus is the part of the turntable that comes into contact with the record.
It is made from a durable material, such as diamond, and its purpose is to track the grooves in the vinyl and convert them into electrical signals.
This information is then sent to the amplifier, where it is turned back into sound.
Tonearm and Cartridge:
The tonearm is the part of the turntable that holds the cartridge in place.
It is usually made from metal or carbon fibre and is responsible for transferring the audio signals from the record to the cartridge.
The cartridge is a small, replaceable unit that contains the stylus and other electrical components.
It sits on top of the tone-arm and is responsible for converting the audio signals into sound.
Pre-Amplifier and Amplifier:
A turntable's amplifier is responsible for turning the electrical signals from the cartridge into sound.
It does this by amplifying the signal and sending it to your speakers or headphones.
The amplifier is an important part of the turntable system, and it helps to determine the overall sound quality of your music.
What's the Difference Between MC and MM Cartridges?
There are a variety of different types of audio cartridges, but the two most common types are MM and MC.
The main difference is that MM cartridges use magnetic coils with wires wrapped around them to generate an electrical signal, while MC cartridges use tiny magnets to do the same thing.
The sound quality from both types of cartridge is excellent, but they have slightly different sounds.
They also require very different care and maintenance as well as having some major differences in price range.
Whether you're looking for high-end or low-end equipment, it's important to know about these differences before making your purchase!
What Should You be Looking for in a Turntable Under $500
When looking to buy a turntable, there are a few things you should keep in mind.
The first is the price range you're comfortable with.
There are a variety of options available, and you don't have to spend a lot of money to get a quality product.
The second thing to consider is the type of music you want to listen to.
Not all turntables are created equal, and some are better suited for certain types of music than others.
Finally, you'll need to decide on the features you want your turntable to have.
Do you need one with a built-in preamp?
What about Bluetooth connectivity?
Your own personal preferences are important factors to consider when making your purchase.
Best Turntables Under $500 – Wrapping it up!
So, are you ready to get into the groove of listening to your favourite vinyl records?
If so, it's time for you to pick which turntable is best for you.
Luckily there are a ton of options available in this price range, and you will find what you're looking for.
This list includes seven great turntables under $500 with different features and prices that should help narrow down your search.
I hope these round-up review has been helpful! Happy hunting! Happy listening!