Dubstep is a pretty unique sound and is part of the vast and ever growing world of EDM.
The phenomenon that is Dubstep was born in obscurity, but rose to the highest level of international recognition within a decade.
Dubstep shocked the world with it's meteoric rise and left many outsiders wondering 'what is Dubstep?'..
…and where did it come from?
Dubstep is a unique style that has roots in various other genres.
This style has made a permanent mark on musical history.
Dubstep is special, and everyone who enjoys it should know how it started, and where it came from.
What is Dubstep?
Dubstep is a form of Electronic Dance Music (EDM) with its roots in several genres, including: 2-Step, Dub, Reggae, and UK Garage.
TL;DR Summary:
Dubstep is a unique genre of club EDM that was developed as an amalgamation of genres including 2-Step, Dub, and especially UK Garage. This style is defined by Wobble bass, syncopated rhythms, intense driving melodies, deep bass, and immense creativity.
The genre was born in South London in the UK, during the period of 1999 to 2002.
Later, the genre was further developed across the UK, particularly in Bristol.
This style was mainly developed in underground clubs and it became one of EDM's most successful and influential genres.
Dubstep was born when the syncopated rhythms and intense chaos of 2-Step were combined with the funk and style of the Reggae-influenced Dub.
They melded together in the UK Garage scene, which added intensity, dance aspects, and successful song structures.
The invention of this genre became a platform for immense creativity, and the genre developed into something that would take the musical world by storm.
The sound of Dubstep is defined by complex syncopated rhythms known as 'tuplets' and makes heavy use of shuffle rhythms too.
This music is fast-paced and is well-known for developing something called 'wobble bass'.
As well as intense bass, Dubstep in known for it's driving melodic apects.
It makes good use of rewinds, drops, and MCs and has a unique structure that distinguishes it from other forms of EDM.
The music became internationally popular very quickly, and within five years of its inception, it was taking ground in the US and becoming popular on mainstream radio stations.
Artists such as Skrillex made this genre popular in the United States and further developed the sound and definition of Dubstep.
Typical Characteristics of Dubstep
Pretty much every genre of music has a few characteristics that when put together, create the unique sound that the genre is known for.
And dubstep is no different.
So what are they in Dubstep's case?
#1. Syncopated Rhythms
Dubstep rhythms are usually shuffled, and they are almost always syncopated.
The drums and groove are wrapped around the kick drum hitting on the first beat of each bar, with the snare on the second beat of each bar.
It is because of this characteristic that people can rarely agree on the beats-per-minute (BPM) of Dubstep.
Is it 70 BPM? Or is it 140 BPM?
#2. Wobble Bass
The wobble bass is often referred to as the 'wub'.
This is where an extended bass note is manipulated rhythmically.
Wobble bass is produced by using a low-frequency oscillator to manipulate specific elements of a synthesiser.
#3. Atmospheric Soundscapes
A key characteristic of Dubstep is the heavy use of atmospherics, layers and textures.
These elements come together to create the deep, spacious production that Dubstep is well-known for.
A Very Brief History of Early Dubstep
Dubstep has it's deepest roots in Croydon, South London.
Even more specifically, a tiny record shop named Big Apple Records.
Big Apple Records was a small underground dance music shop with knowledgeable, talented staff…Hatcha, Hijak and Skream.
Combine this with South London's wealth of small underground clubs with big sound-systems, a young population…
…plus the increasingly easy (affordable) access to music production software like FruityLoops and Music2000, and all the elements of a new UK music revolution were starting to bubble-under.
Big Apple Records quickly became a hub for lovers of underground music, and with it's own record label, was also attracting new, experimental, producers, DJs, MCs and club promoters through it's doors.
This broad and diverse mix of musical talent, music lovers, club goers etc. was everything needed for the birth of a new musical genre.
Dubstep was here.
It spread through South London, it spread through London, and it quickly found a second home in Bristol…home of Massive Attack, home of Banksy, and many other talented and prominent artists.
Dubstep Sub-Genres
Every music genre worth its salt ends up giving rise to a few sub-genres.
And Dubstep has spawned more than its fair share.
Let's take a very quick look at a few of them.
#1. Glitchstep
Less of the melodic, atmospheric soundscapes…
not so much of the heavy bass either…more of the glitchy, poppy electronic sounds.
#2. Filthstep
Not big on melody.
A pretty aggressive sound.
Filthstep always sounds lo-fi, which is intentional and what gave rise to the name.
#3. Deathstep
Dark, aggressive, full-bore.
The structure of Dubstep but that's about it.
#4. Ganjastep
Produced to the structure of Dubstep…
…lots of 'wub', mixed with Reggae.
You have Ganjastep.
#5. Chillstep
You won't often find this being played in clubs.
The laid-back, chilled-out, ambient sound of Chillstep is for those quieter moments.
How did Dubstep Become so Popular, so Quickly?
Dubstep became popular so quickly partly because of the incredibly strong foundations that it laid across the UK's underground club scene.
It spread across the country as something different, very rapidly.
It's growth continued when BBC Radio 1 DJ John Peel, who had already gained unparalleled respect as a champion of new music, started giving huge amounts of air-time over to Dubstep.
This turned into mainstream popularity for the genre as it exploded all across the UK.
However, the genres popularity went stratospheric upon the airing of the Dubstep Warz transmission on Mary Anne Hobbs BBC Radio1 'Breezeblock' show.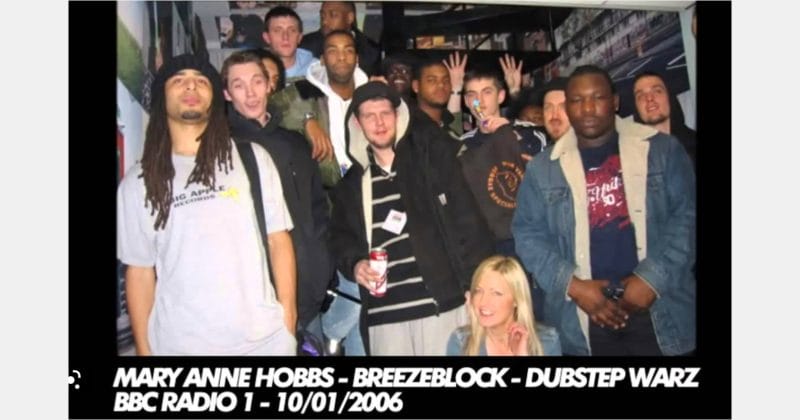 Mary Anne Hobbs' groundbreaking music show was to be the absolute tipping-point for the dubstep sound on the global stage.
From the UK to Ayia Napa, through Europe, and over to the U.S., Dubstep was a world-wide phenomenon.
Influential Dubstep Artists
Way too many to mention everyone, these are just a few of the people that have been key to the success of Dubstep.
DJ's, producers, MC's…here they are…some of them!
Skream: Otherwise known as Oliver Jones, is a UK DJ/producer, and one of the genres earliest pioneers.
Working at Big Apple Records, he was also producing music with a UK Garage style, but with more the pounding bass and heavier beats from Drum n' Bass.
Kode9: Involved in the EDM scene since around 1991, it was Steve Goodman's move to London in the late '90s that was key to his success.
With his background in Jungle, Drum 'n Bass, and 2-Step Garage…
…coupled with perfect timing, Kode9 quickly established himself on the Dubstep scene through his DJ slot at at clubnights such as FWD>> at The Velvet Rooms.
Hatcha: Another DJ who helped pioneer the Dubstep sound by playing original one-of-a-kind, acetate tracks by the likes of Skream and Benga.
Plastician: Chris Reed, a.k.a. Plastician is a DJ/producer from Croydon, South London.
In at the ground-floor of Dubstep, he helped establish the sound on the local underground club scene…and beyond.
Skrillex: Sonny Moore, a.k.a Skrillex, is largely credited with getting Dubstep the traction it needed in the U.S.
It was in 2011 that the American DJ/producer brought the sound into the American musical mainstream.
Chase & Status: Keeping Dubstep at the forefront of the musical mainstream, with three, UK Dance Singles Chart number one singles, between 2007 and 2009.
Wrapping it Up!
What is Dubstep?
Hopefully you now know more than you used to about the genre!