Don't struggle along on your own trying to find a gift for the vinyl lover in your life.
Let us take the strain with this carefully curated list of gifts for vinyl lovers.
Get yourself a coffee, and enjoy picking a present or two, from our 21 best suggestions.
Safe in the knowledge, that as vinyl lovers ourselves, everything here is something we either already own, or would love to own.
And don't worry about blowing our budget either, there is something on our list for all.
Enjoy!
Gifts For Vinyl Lovers…
In no particular order…
Art Vinyl – Play & Display Record Frame
Art Vinyl's easy-to-use flip frame mounting means you can display album covers on your wall, and change the content in seconds…
…and play the record without having to remove the frame from the wall.
This Play & Display Record Frame is built so that any 12″ record will fit securely inside…from singles and LPs, to double albums.
As well as all that, The UV protected crystal clear front window protects the vinyl from sunlight.
These frames come assembled, completely ready to attach to the wall with just a couple of screws.
Sanus Speaker Stands
Speaker stands are worth the money, no question.
Speakers that sit on the same surface as the turntable tend to lead to distorted sound.
To further compound the poor-sound experience, if speakers are sat too close to each other, it will result in small soundstage.
The Sanus Basic Series BF31 is a great stand for small bookshelf speakers weighing up to 20 lbs.
Plus, they have a built-in concealed wire path to hide cables for a super-clean look.
KAIU Vinyl Record Holder & Storage
For once a well thought out vinyl record holder.
This beauty by KAIU fits both 12″ and 7″ records and is made using high quality wood and crystal clear acrylic screens.
The grooved surface stops the records from slipping and sliding, while the thick acrylic panels support the weight of vinyl and provide a clear view of the cover artwork.
Well thought out and beautifully simple!
The KAIU Vinyl Record Holder comes in a number of different finishes and can hold up to fifty 12″ records.
Crosley Record Carrier Case
This Crosley Record Carrier Case is both great looking and outrageously functional all at the same time.
This will come in super-handy whenever there is some vinyl that needs transporting…
…or actually just needs to be kept neat and tidy.
You can get about 30 records in one of these. Plus, they are faux leather so you are doing the environment a favour too.
A great gift idea that shows you have put a little thought into your present shopping.
Sennheiser Pro Audio HD280PRO Headphone
I love Sennheiser headphones, I really do.
It is not by accident that almost every live broadcaster that you see on TV will be wearing Sennheiser cans.
I use a pair of these whenever I'm listening to music at home, and have the time to properly immerse myself in the music.
And when DJing, I'd never even consider anything other than Sennheiser.
The Sennheiser Pro Audio HD280PRO offers true sound quality all the way through the range, along with outstanding soundstage.
An absolute steal at the price.
KAIU Record Now Playing Stand
Well okay, I get you, this KAIU Record Now Playing Stand does look a little bit like a block of wood…
…okay, a lot like a block of wood.
But, it is a block of wood that's been precisely machined so that it holds an LP just about perfectly.
And that's why we love it.
That and the fact that it costs just $15.
Vinyl Record Bottle Opener
Now this is a great little stocking filler.
The Vinyl Record Bottle Opener by Gift Republic is pretty much exactly what it says it is!
So if the vinyl junkie that you're looking at buying a present for also appreciates the odd beer…
…what could be better?
How many boxes do you want to tick for less than $15?
If they don't love this, well, I don't know, maybe just buy them a coupe of pairs of socks next year.
Omega Headphones Stand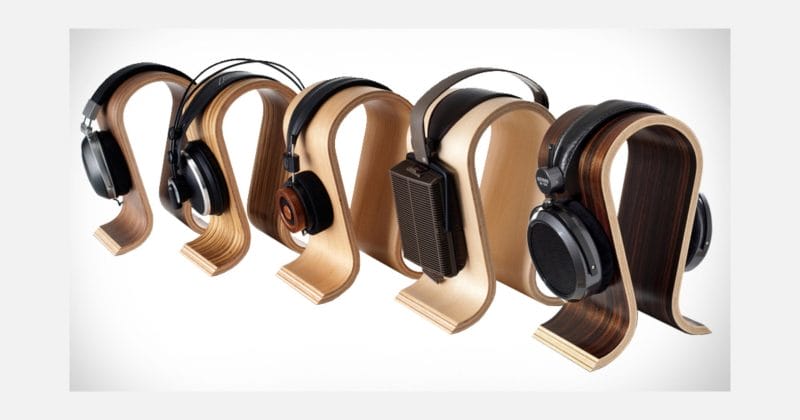 I didn't know I needed a headphone stand until I owned one.
Now, I can't stand to see a pair of cans lying about on a table top like they've beed cast asunder.
I dare say the vinyl lover in your life probably doesn't realise that they need a headphone stand either…
…but take it fro me; they do!
The Omega Headphone Stand is elegant and stylish, so much so that they look like they'd be made in Italy…
…but they are actually made in Germany…which means they will probably last forever too.
Audio Technica Stylus Cleaner
This Audio Technica Stylus Cleaner is a clear jelly-like compound…
…that is encased in a thin membrane onto which the stylus is lowered.
Sound a bit weird?
Well, there's more…
…the membrane then attracts dust particles onto it, a bit like a magnet, and never damages the stylus tip.
It can also be used many times over, as the cleaning element can be washed with a little warm water.
Weird? Yes!
Genius? Yes!
Needed by anyone who cares about looking after their vinyl collection? Yes!
Vinyl Me, Please: 100 Albums You Need In Your Collection
This is quite simply a fantastic book that any, and I mean any, vinyl lover would be delighted to receive.
A fantastically vibrant visual guide to curating must-have records for any music lover's shelf.
Brought by the vinyl subscription club, 'Vinyl Me, Please', this is a beautifully put together gem…
…and it will be returned to time and time again.
Vinyl Me, Please: 100 Albums You Need in Your Collection is not only a visual feast as each entry shows the album artwork…
…but it also includes a narrative from a contributing music writer.
Put together with care and a total steal at $20 or so.
S.M.S.L. SP500 Headphone Amplifier
Headphone amplifiers are low-powered audio amplifiers that drive headphones instead of speakers.
Sure, audio devices that have a headphone jack do have a built-in headphone amplifier of sorts…
…but standalone units offer far better sound and performance.
The S.M.S.L. SP500 provides excellent quality and is compatible with virtually any headphones on the market…
…but definitely check because this isn't cheap!
Booze & Vinyl Book
Here's a super fun stocking filler.
Described as "the ultimate listening party guide", whatever that means?..
…this book helps the vinyl enthusiast, who also appreciates a well made tipple, mix and drink their way through some of the best records ever produced.
Booze & Vinyl: A Spirited Guide to Great Music and Mixed Drinks…
…now you know what Boxing Day was invented for!
A Better Record Brush
This Audio Quest Record Brush will:
"Improve the conductivity of static electricity and facilitate better cleaning of micro-dirt particles through the use of small fibres and gold contacts, enabling for a better discharge of static electricity".
Does that sound interesting to you?
Well, it doesn't matter because this isn't for you anyway.
It is highly likely that whoever you are looking to buy this gift for will already own a record brush…but this one will be better.
Much better!
Fluance RT85 Turntable With Ortofon 2M Blue Cartridge
If you're buying a loved one their first turntable as a gift this year, I highly recommend the Fluance RT85 Turntable.
This turntable strips away all unnecessary gadgetry in favour of getting the fundamentals of playing mechanics exactly right.
And it comes with a high-quality pre-fitted Ortofon cartridge.
The only additional equipment you may need is a phono pre-amp (that will depend on whether or not your amp/receiver already has a 'phono' input).
There are cheaper record players out there, but for me…
…the Fluance RT85 turntable is at the price-point where fashion accessory ends, and serious audiophile kit begins.
Focusrite Scarlett 2i2 Interface
If the vinyl junkie in your life is looking for a way to create high-quality digital copies of their vinyl records, this is the way to go.
Using a dedicated audio interface, like the perfectly formed Focusrite Scarlett 2i2 Interface…
…enables high-quality connectivity with your computer for superior sounding results.
Chord Clearway Analogue RCA Cable
Poor, low quality cabling…the scurge of the self-respecting audiophile.
When it comes to audio interconnects, these beauties cannot be beat.
They will add true sound quality to any analogue set-up.
Yes, they look to be a little expensive, but the award-winning Chord Clearway Analogue RCA…
…will deliver the most unexpected upgrade to your sound quality ever.
Worth every dollar and dime!
Groove Vinyl 100 Vinyl Record Sleeves
I know, I know, this doesn't seem like the most exciting present does it?
Well, no, it isn't, but it is practical.
Vinyl lovers always need good quality protective record sleeves, and this pack of 100 Groove Vinyl Record Sleeves fit the bill nicely.
Think of this one as like buying socks for a normal person!
1000 Record Covers Book
A fantastic addition to the book collection of any vinyl lover.
The 1000 Record Covers Book features the best vinyl record covers in history, starting out in the 60's.
Album art used to be a big thing, lost during the rise of online releases.
This book is a trip down memory lane and a chance to explore the vast world of record vinyl covers, their individual stories and artistic expressions.
A great buy!
Records
When all is said and done, it's about the music.
You can chuck all the gadgetry in the world at your vinyl junkie, but it is the vinyl that they crave.
You can spend a bit of time trying to find out what they're currently after…
…or you can keep your life simple and buy a gift card from a local record store.
Guaranteed to be appreciated.
Best Gifts For DJs – Wrapping It Up!
19 great gift ideas for the vinyl lover, record collector, audiophile in your life.
And every one a nailed-on winner.
Happy shopping, and happy gifting!