I'm not going to hit you with the same old BS list of best female DJs that you'll find on pretty much every other post on page one of Google.
You know as well as I do, that half of them have been turned out by some bit of AI content writing software.
That's why they all look remarkably similar!
These are ten female DJs that I love because they have skill, deep musical knowledge…
…and, they always bring their presence, personality and infectious energy to their sets. 
10 Best Female DJs…and Where to Find Them!
#1. Charlotte de Witte
Do you like a bit of techno?
If yes, do you like your techno on the dark and dirty side?
If yes, you're going to absolutely love Charlotte de Witte!
The Belgian techno superstar DJ and producer loves to test the boundaries of EDM, because of this she had developed a sound all of her own.
Belgium of course has a strong reputation for churning out top quality DJ's, and most of them seem to be at the higher-energy margins.
In 2022 Charlotte de Witte was the first woman, and the first techno DJ, to close the Tomorrowland mainstage.
The fact that it was held in her hometown of Ghent, would no-doubt have turned a big night, into an even bigger night. 
The techno scene is enjoying something of a re-birth right now, and it's in no small part down to the talents of CdW.
DJ, producer, KNTXT record label owner, let's hope there's a lot more to come from this outstanding artist.
From: Ghent, Belgium
DJ Style: Techno, Acid Techno, Trance
Where You Can Find Her: For pretty much all of 2023, mainly in the U.S.A. 
#2. Sister Bliss
Provider of some of the best clubbing nights of my life, how could I not give the amazing Sister Bliss one of the top slots.
There are few DJs I've harassed mid-set to try and find out what mind-blowing gem they've just dropped…
…and if I were to add them all up, Sister Bliss is possibly the one I've bothered the most.
Along with the late Maxi Jazz, and producer Rollo Armstrong, Sister Bliss formed the legendary Faithless, one of the most successful electronic music bands ever.
Unfortunately, these days, you're going to be hard pushed to find her playing a live set, but if you do get the chance, I promise you, it'll be a night to remember.
I used to catch her at 'The Gallery' at Turmills in London, where she would play across house, progressive house and trance…
…but you might have to make do with her weekly radio show and podcast 'Sister Bliss in Session'.
Syndicated to over 100 stations & 43 countries worldwide the success of her radio show reflects her well-earned dance music legendary status.
The video that I've embedded from YouTube is from way back in 2003 and it's a pretty close match to the type of sets I used to see Sister Bliss play.
From: London, England
DJ style: House, Progressive House, Trance
Where You Can Find Her: Sister Bliss in Session
#3. Francesca Lombardo
Francesca Lombardo has a DJing style that I just love.
Plenty of DJs will tell you that their sets are like a journey, but actually they're nothing like a journey.
Well, a Francesca Lombardo set is absolutely a journey.
Deep melodic soundscapes, tension building beats, rhythms chugging along with so much anticipation that you cannot wait to see where it leads.
Where does it lead? Wherever the very talented Francesca Lombardo want to take you.
She actually served much of her DJ apprenticeship in London clubs, under the name of Jackie Misfit.
Francesca has played at some massive events, including IMS Dalt Villa, Burning Man, Tomorrowland, Get Lost, Resistance, Circoloco, and The Royal Albert Hall.
On top of all this she produces her own tracks and has her own record label named Echolette.
From: Lombardy, Italy
DJ style: House, Deep House, Tech House, Techno
Where You Can Find Her: All over the world, regularly.
#4. Hannah Wants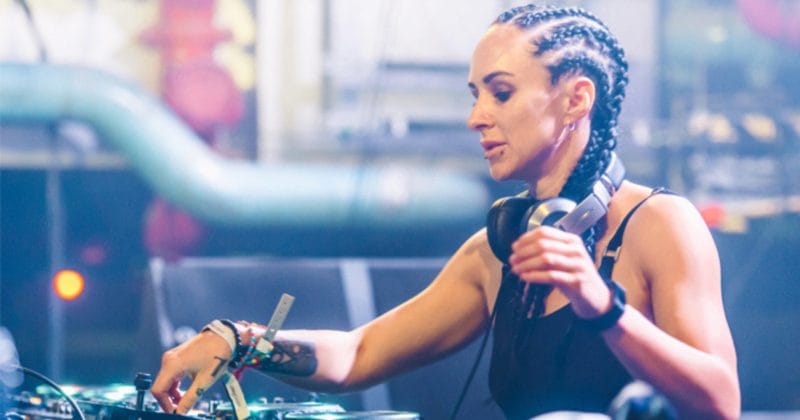 Solid house, speed-garage, laced with trippy vocal hooks and minimalist techno, delivered in a straight up, no nonsense DJ style.
That's what you're going to get from a Hannah Wants set.
All delivered with a ton of skill and buckets loads of energy.
Sound like your cup of tea? Well, it certainly is mine!
Hannah Wants started DJing back in 2002, but got her big break in 2010 in Ibiza, filling in for a DJ at the famous Es Paradis club.
Off the back of this she set about regularly entering DJ competitions and submitting mixtapes to SoundCloud.
Good luck followed hard graft, as Hannah started landing regular slots at some very decent clubs around the UK.
In 2012 she was named Best Breakthrough DJ by both Mixmag and DJ Magazine. In 2014 Mixmag also named her as their Star of the Year.
From: Birmingham, England
DJ style: House, Speed-Garage, Techno
Where You Can Find Her: Europe and U.S. throughout 2023.
#5. Amelie Lens
If you like your techno full-bore and frenetic, Amelie lens could be exactly what you're looking for.
Her sound is fast, frenetic, furious…just the way good techno should be!
Amelie Lens plays hard techno, but with a rhythmic groove. And it's this that makes her so special.
I love DJ's who look like they're having the time of their lives when they play, and that's just another reason to love her.
Here's Amelie banging out a set at Tomorrowland in 2022:
Number 5? I'm not so sure having just spent an hour-and-a-half watching and listening to that little gem of a set.
Might have to bump her to Number 1 if she carries on like that!
From: Vilvoorde, Belgium
DJ style: Banging Hard Techno
Where You Can Find Her: Regularly all across Europe and often in the U.S.
#6. Anfisa Letyago
Originally from Russia, Anfisa Letyago moved to Naples, Italy at just eighteen years old.
Now she is one of techno's fastest rising stars.
When I say techno, her sets are full-house all eclectic-ness with techno running through them.
Techno, acid techno, trance, tribal trance, Goa trance, all woven together beautifully for a set that is as full of energy as it is inventiveness.
From: Mirny, Russia
DJ style: Techno, Trance
Where You Can Find Her: Regularly all across Europe and often in the U.S.
#7.Maya Jane Coles
Maya Jane Coles has been rising through the industry since 2006.
Following the release of a couple of singles and an EP in the previous years, 2011 saw the DJ/producer win the 'Staff Pick: Artist of the Year′ at the Beatport Awards.
That same year she also won Mixmag's 'Best Breakthrough DJ'.
In 2012, her track 'What They Say', was named 'Best House/Garage/Deep House' track at the Miami Winter Music Conference.
Quite the collection of gongs.
All this led to a fair amount of fresh exposure, and invites to DJ at some pretty impressive venues.
Some of her very best work she lays down on LP, which fully showcase her composing and production skills, along with her outstanding musical creativity.
From: London, England
DJ style: House, Tech House, Techno
Where You Can Find Her: Miami and New York are her only set locations for 2023…so far!
#8. Gina Turner
Gina Turner first gained DJ fame as a radio DJ.
A native New Yorker, some-time L.A. resident, via Boston, where she first started DJing on the local club scene.
Tiesto's Black Hole Recordings released her track "Bang It" back in 2009.
It was very much this release that deservedly elevated her DJ career to new heights.
She has since gone on to release tracks on a number of top labels such as Ultra, Ministry of Sound and Sound Pellegrino.
From: New York
DJ style: House, Tech House
Where You Can Find Her: None so far listed.
#9. Lena Willikens
Lena Willikens has a very unique Djing style.
She crosses genres like she doesn't even care, but because she has skills to burn, it all works out just fine.
You're not going to get relentless thundering, driving rhythms at a Lena Willikens set…
…but you are going to get a musical journey, with little regard for genres, BPM's, or just about anything else for that matter.
She plays what she likes, when she likes.
And you'll absolutely love it!
From: Stuttgart, Germany
DJ style: I'm not exactly sure!
Where You Can Find Her: Barcelona, London, Edinburgh, Sao Paulo, Detroit, Mexico City
#10. Ellen Allien
Ellen Allien has been Djing techno since back in 1993.
Not only does she DJ, produce, have her own record label, but she's also knocked out a book.
A book about techno of course!
'Was Ist Techno?: Geschichten Und Gedanken Zu Elektronischer Musik Auf Rezept'
If your German isn't too hot, that translates as:
'What Is Techno?: Stories and Thoughts About Electronic Music On Prescription'
If you like your techno with a bit of warmth and emotion, make sure you catch Ellen Allien somewhere soon.
From: Berlin, Germany
DJ style: Techno
Where you can find her: Regularly all across Europe and occasionally in the U.S.
Wrapping it Up!
There is no wrap up!
Was that not enough for you?