Dropping a couple of well chosen acapellas into your DJ sets and mixes, is a great way to add extra excitement and interest.
It's also a great way to set you apart from the average DJ.
But you'll need to choose them carefully, choose them well…
…and of course…use them sparingly.
Dropping acapellas left-right-and-center, all over you mixes, well, it just gets a bit sickly doesn't it?
To make sure you get it right, the first thing you'll need to do, is find a great source of beautiful acapellas.
And that's what this article is all about;
The best sites to get acapellas for DJs.
Where to Find Acapellas for Your DJ Sets
I know I've numbered my list from one to seven, but really, they're not actually ranked in order of preference.
Suffice to say; if they're on this list…
…I love them!
#1. Traxsource
Traxsource have been around since 2002.
And as you can imagine, in that time, they have compiled a massive library of acapellas.
Traxsource cover a range of different genres but there is a definite slant towards House.
The website probably isn't the easiest to navigate quickly, but if you spend just two minutes poking around with the settings, it'll be a whole lot easier.
Just click through to 'Acapellas' select 'show as tracks' and then select to show maybe '100 per page'.
They've got something like 5,000 acapellas on there, so it is going to take you a little while to get through them!
Find them here: Traxsource
#2. DJ City
DJ City is a seriously long-running digital record pool.
They've been at it since way back in 2000… so almost since the dawn of the internet!
You will need to subscribe before being able to do too much on the DJ City site.
Once you're a fully signed-up member, you'll not only be able to access their 500+ acapella library, but all of the other music on the site.
There are new acapellas being added all the time, and their library is made up of a real broad range of genres…so just about every musical taste is catered for.
I love the fact that the DJ City site is searchable by genre, and that they include the track BPM, and sometimes also the tracks key.
You'll find a ton of other great DJ stuff on the site as well…remixes, mashups, other DJ tools.
I promise you, you'll love it, so get yourself over there.
Find them here: DJ City
#3. Beatport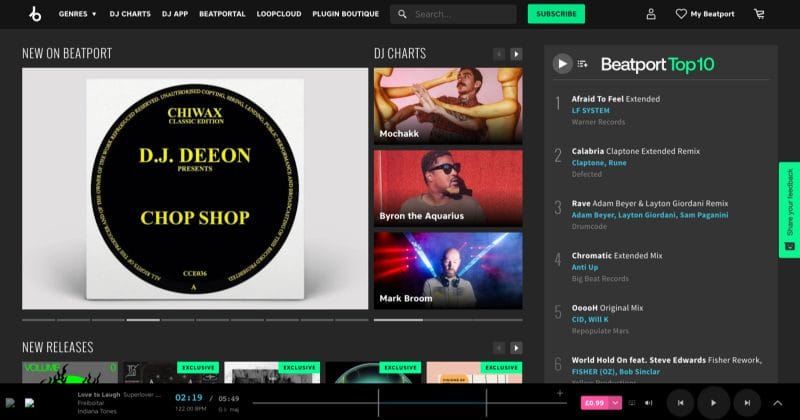 Seeing as your a DJ who's on the internet searching for "where to find acapellas for DJs", I'd be pretty surprised if you haven't already heard of Beatport.
Because it's just about the largest online digital music store for DJs and producers.
Beatport was started in 2004 and it has an extensive range of genres for you to revel in.
Unfortunately they do not have a dedicated acapella resource, which I find a little odd, which means you're going to have to work a little harder to uncover the gems you're looking for.
But, there is un unbelievable amount of quality music on Beatport…
…we're talking in the hundreds of thousands of files.
So yeah, you're going to pay with your time, but if you're willing to do that, you've got a great chance of finding some top quality acapellas.
If you haven't already…
Find them here: Beatport
#4. Voclr.it
"The home of free acapellas"…
…their words, not mine!
And it is, as they suggest, a free site specialising in acapellas.
They've got something in excess of 15,000 acapellas available at the time of writing.
You will have to sign-up for a free account before you can even browse what's on offer. Something that bugs me a bit, but I'll get over it!
When they say "free", they mean you get five free downloads each month. Which is great!
You'll need to get yourself a paid account if you want to download more…
…but at something like $6 per month, it's not likely to break the bank.
Voclr.it has acapellas across a ton of different genres, so whatever your musical persuasion, there is probably something here to tickle your fancy!
If acapellas are what you're after, you're going to love this one.
Find them here: Voclr.it
#5. Looperman
This site looks like it was the first website ever built!
And given the length of time some of these acapella sites have been going, maybe it was.
But diabolical looks aside, Looperman is jam packed with DJ and producer goodies that will have you drooling, if not foaming, at the mouth!
There's a nice, easy to find acapellas tab inside which you will be able to access over 9,000 of the beauties. 
Not only that but you can also search by both genre, BPM, vocalist gender, and style.
What more could you ask for?
It's a dream!
You'll need to get an account before you can access anything decent, but hey, it's free, and what's inside is well worth your time spent on a simple sign-up.
Find them here: Looperman
#6. Loopmasters
Loopmasters is a little different to the sites we've looked at so far on this list.
That's because while you can get your hands on a ton of royalty free acapellas, you won't find any full songs here.
What you're going to get at Loopmasters is acapellas and vocal samples recorded in phrases, and sold in sound packs.
So yeah, a little different, but also great for assembling in DAW, or uploading into your sampler software and using in your live sets.
A load of genres are on offer, and some great vocal samples to get your hands on, but a little more tech knowledge required for this one.
Find them here: Loopmasters
7. Splice
One great thing about Splice, that you're going to love, is how easy it makes it to search for stuff, and tag that stuff once you've found it.
Splice is without doubt, one of the best sources of music samples out there.
You'll need to sign-up to a monthly membership to get full access, but it's not too pricey and well worth the money.
Splice loves to make sure you mix harmonically! 
How do I know?
Well, they show you the key of each sample, giving you all the help they can to keep you mixing in key.
Find them here: Splice
Wrapping it Up!
Finding acapellas for DJs and producers is getting easier and easier, thanks to the rise of these amazing online resources.
If you want a to add a little flair to your mixes, sets, productions…acapellas are a great way to do it.
Just make sure you don't overdo it.
Happy hunting!